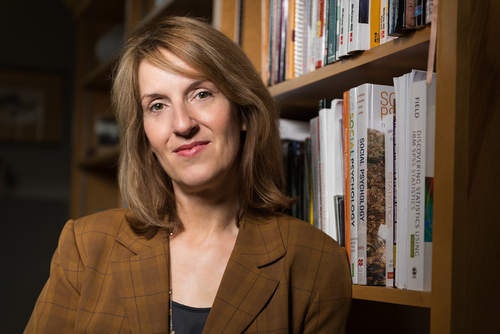 Education
B.A. (Hons.) University of New Brunswick
M.A. (Clinical Psychology) University of New Brunswick
Ph.D. (Experimental Psychology) Bowling Green State University
Postdoctoral Research Training (HIV) Columbia University
Dr. O'Sullivan is a social psychologist and Professor in the Department of Psychology at the University of New Brunswick. She is also the director of the Sex and Relationships Lab.
Her work focuses primarily on sexual health, intimate relationships, and the affective and cognitive components of sexual decision-making of young adults and adolescents. She held a Canada Research Chair in Adolescents' Sexual Health Behaviour (2006-2016) and has received a wide range of funding from federal agencies (e.g., NIH, CIHR, SSHRC) and private foundations (e.g., Ford, NBHRF) to support her work.
Other studies address the development, maintenance, and breakup of intimate relationships, as well as the role of gender in romantic and sexual experiences.
Her research program frequently incorporates studies and collaborations that are international (e.g., South Africa, Guatemala, India, US, UK) and interdisciplinary.
She is active on a wide range of editorial boards, is Associate Editor of the Journal of Sex Research, and has published extensively in research journals and books. Her research has appeared in the Globe and Mail, National Post, and CBC.
Charlene Belu is a Ph.D. student in the Clinical Psychology program at the University of New Brunswick. She has broad research interests within the area of human sexuality. She is particularly interested in attraction, the formation of intimate relationships as well as relationship quality. Her research interest also extends to the domain of sexual violence.
Currently, she is examining the quality of relationships that are formed out of infidelity, and investigating the impact on a romantic relationship of attraction to people other than one's romantic partner.
Jeff Foshay is a Clinical Psychology student. His undergraduate research at St. Francis Xavier University was mainly in the domain of romantic relationships. More specifically, he explored the relationship between attachment styles and the way that individuals cope with stress in their romantic relationship.

Current Research: He is preparing to start his dissertation, which will likely continue with the previous research he has conducted on Unwanted Pursuit Behaviours. Further questions include: 1) To what extent do UBPs occur within in-tact relationships? 2) What cognition distortions are present in those that engage in UPBs. 3) Do UPBs used during intact relationships predict break-ups and break-up distress?

Current Activities: Working full-time in child and adolescent mental health here in Fredericton. Activities include leading groups, individual therapy, family work, and psychoeducational and mental health assessments.
Lauren Cormier is a Clinical Psychology student. She received a Bachelor of Arts in Psychology (Honours), with a minor in Sexuality, Marriage, and Family Studies from the University of Waterloo, and graduated with distinction. Her honours thesis investigated the role of rejection sensitivity in forgiving the infidelity of a partner. Her broad interests in human sexuality include sexual assault, orgasm, and pleasure-focussed sexual education. She is currently exploring the rapidly growing field of sexual technology, or "sextech," and the role it plays in sexual education.
Emily Vogels is a PhD student in the Experimental Psychology program. She came to UNB in the Fall of 2015 after completing her Master's degree in Cognitive and Affective Sciences at the University of Wisconsin Oshkosh. Her master's thesis explored how perceptions of importance and stability of a romantic partner's flaws influence commitment, romantic affect, and evaluations of the relationship. Her primary research interests include sexuality in the digital age, social media use, and social cognition. Previously, she has explored how online pornography is related to body image, sexual behaviors/desires, and perceived peer norms. Current projects include research on nude sexting in adulthood (with a particular interest in unsolicited "dick pics"), predictors of desire for social media behaviors, personality traits and self-disclosure on social media, cross-cultural online dating profiles, parents' social comparisons of their children, and social perception in hiring practices.
Morgan Richard graduated from a BSc with a major in Biology and from a BA with Honours in Psychology (both from UNB). Her honours thesis focused on rape myth acceptance among university students and its associations with bystander intervention attitudes and sexual assault. She will be entering the Experimental Psychology graduate program at UNB this September. Her research interests (broadly) include sexual violence, intimate relationships, and sexual health. Currently, she is involved in research on the occurrence of sexual harassment and assault of massage therapists by their clients.
Andrea Bliss is a registered psychologist in Alberta at the OCD Program of the Mood, Anxiety, and Psychosis Service (MAPS) at Alberta Children's Hospital and an adjunct professor at the University of Calgary. Her research focuses on pediatric Obsessive-Compulsive Disorder as well as communication in the relationships of young adults and adolescents.
Sarah Vannier is a Postdoctoral Fellow at the Couples and Sexual Health Lab at Dalhousie University, Nova Scotia. Her research broadly focuses on sexual and romantic scripts. While at UNB, her research examined sexual initiation, sexual compliance, attraction, oral sex motives, and the content of web-based pornography.Her dissertation examined the association between violated romantic expectations (e.g., love at first sight, destiny) and relationship outcomes in young adults' dating relationships. During her postdoctoral fellowship, she is expanding her research program to include couples and clinical samples (e.g., women with sexual pain). Her main research project will examine sexual and relationship wellbeing during the transition to parenthood. She is particularly interested in how sexual expectations and attributions shape the experiences of new parents.
Ashley Thompson is currently an Assistant Professor in the Department of Psychology at the University of Wisconsin Oshkosh. She received her PhD in Experimental and Applied Psychology from the University of New Brunswick under the supervision of Dr. Lucia O'Sullivan and her B.Sc. in Psychology from the University of Wisconsin River Falls. Ashley's research interests include attitudes and judgments relating to romantic and sexual interpersonal relationships, the onset and maintenance of these relationships, and the role of gender in romantic and sexual relationship experiences. In particular, she has an interest in the measurement of attitudes toward socially sensitive topics using the Implicit Association Test (IAT). Currently, she is implementing the IAT to measure the implicit endorsement of the sexual double standard. Ashley is also interested in the assessment of judgments that people make relating to infidelity. She is expanding this research by assessing variations in infidelity judgments according to a variety of rival characteristics (e.g., attractiveness, familiarity, gender).
Honorary Lab Rats
CHI and ANOVA